Give me an A! Give me a B! Yada yada yada ...
L
!

Two, in fact!
It's that time again (uh...midnight-ish in the South) and time for the 2016
Blogging from A to Z challenge
This is my 2nd year attempting to complete the challenge without embarassing the whole dang family, dogs, and various hangers-on.
Thanks to the creator, Arlee Bird (
Tossing It Out
), and the team that helps make thewhole A-to-Z shebang happen. A list of
great
participants can be found at the
A to Z Blog site.
The basic idea is to blog every day in April except Sundays (26 days), alphabetically, theme optional. Of course,
I had to go with a theme:
Favorite Characters, Favorite Lines.
Now, some of your will beg to differ with me about this "character", but face it: no one is real on the good ole' silver screen. Some actors manage to come soooo close to what we think the person portrayed might really be like. That's the way I felt about Sissy Spacek's portrayal of Loretta Lynn in Coal Miner's Daughter.
This is one case where the Oscars got it right; she gave a great performance. If you've ever watched the real Loretta Lynn in action, Sissy Spacek's portrayal just looks better and better.
Loretta's Daddy, Ted Webb:
I ain't ever gonna see you again.
Loretta: Yes you will, daddy.
Daddy: Maybe, but I ain't never gonna see my little girl again.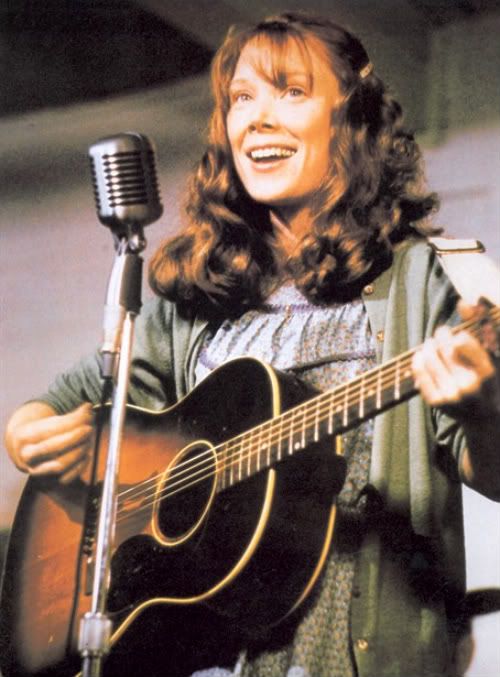 Radio station manager: And come off that dumb hillbilly act!
Doolittle Lynn:
If you knew Loretta, you'd know that ain't no act.
Loretta Lynn:
Thank you, honey.
Loretta: I done wrote me a song, Betty Sue. Your mama dadgome songwriter now.
Betty Sue (daughter): That's a nice song, mama.
Loretta: Thank you, baby.
Loretta Lynn:
I may be ignorant, but I ain't stupid!
Loretta: [catches hubby Doolittle with another woman]
Woman, if you want to keep that arm, you better get it off my husband.
Girl: Who are you telling what?
Loretta: I don't know who you are, but I know what you are.
"I was born a coal miner's daughter..."