Come on, A-Z cheerleaders, we are half way through! Give me an A! Give me a B! Yada yada yada ...
M
!
It's that time again (uh...midnight-ish in the South) and time for the 2016
Blogging from A to Z challenge
This is my 2nd year attempting to complete the challenge without embarassing the whole dang family, dogs, and various hangers-on. Check out all the great blogs on
the list.
#AtoZChallenge
Thanks to the creator, Arlee Bird (
Tossing It Out
), and the team that helps make thewhole A-to-Z shebang happen. A list of
great
participants can be found at the
A to Z Blog site.
The basic idea is to blog every day in April except Sundays (26 days), alphabetically, theme optional. Of course,
I had to go with a theme:
Favorite Characters, Favorite Lines.
When we're talking about characters, you don't have to love everything about a character to enjoy their antics. Such is the case with Melvin Udall from As Good As It Gets.
Wikipedia describes this movie like this: "
It stars
Jack Nicholson
as a
misanthropic
, racist,
obsessive-compulsive
novelist,
Helen Hunt
as a single mother with a chronically ill son, and
Greg Kinnear
as a
gay
artist." That doesn't begin to touch on the way Melvin (Jack Nicholson) interacts with each character and the way his flaws, faults, and foibles MAKE this movie great. Melvin, the great obsessive loner, falls for Carol, the waitress. Meanwhile, his artsy neighbor, Simon, is at an all time low after being attacked and robbed.
Cuba Gooding, Jr., is great as the artist's manager, Frank, and the dog, Verdell, pretty well steals a scene or two.
Who would have thunk it; Melvin pulls a great plot twist just because you don't end up hating him. By the end of the movie, his new relationships change him. Quotes alone don't do it justice, especially since there are so many lines that won't pass my own blog rules (ha ha...) - see this movie, peeps. It is funny.
M is for Melvin!
Frank:
If there's a mental health organization that raises
money for people like you, be sure to let me know.
Melvin:
Melvin:
Police! Donut-munching morons, HELP ME! HELP ME!
Frank:
Melvin:
Assault and Battery - and you're black!
Melvin:
[to Verdell the dog] Don't be like me. Don't you be like me!
Melvin:
I'm drowning here, and you're describing the water!
Melvin:
Judging from your eyes, I'd say you were fifty.
Carol:
Judging from your eyes, I'd say you were kind, so so much for eyes.
Receptionist:
How do you write women so well?
Melvin:
I think of a man, and I take away reason and accountability.
Melvin:
You're a disgrace to depression.
Melvin:
Simon:
Melvin:
No! And you people are supposed to be sensitive and sharp?
Carol:
OK, we all have these terrible stories to get over, and you-...
Melvin:
It's not true. Some of us have great stories, pretty stories that take place at lakes with boats and friends and noodle salad. Just no one in this car. But, a lot of people, that's their story. Good times, noodle salad. What makes it so hard is not that you had it bad, but that you're that pissed that so many others had it good.
Melvin:
Dr. Green, how can you diagnose someone as an obsessive compulsive disorder, and then act like I have some choice about barging in here?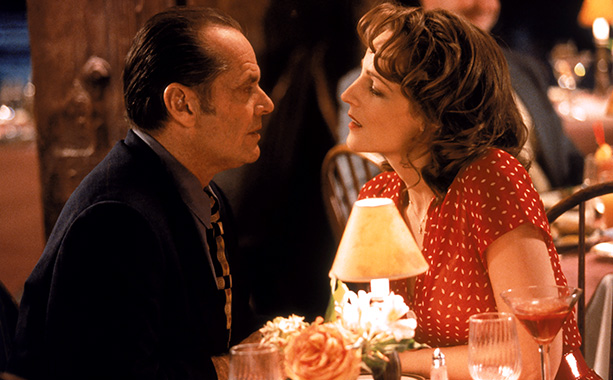 Melvin: I've got a really great compliment for you, and it's true.
Carol: I'm so afraid you're about to say something awful.
Melvin: Don't be pessimistic, it's not your style. Okay, here I go: Clearly, a mistake. I've got this, what - ailment? My doctor, a shrink that I used to go to all the time, he says that in fifty or sixty percent of the cases, a pill really helps. I *hate* pills, very dangerous thing, pills. Hate. I'm using the word "hate" here, about pills. Hate. My compliment is, that night when you came over and told me that you would never... all right, well, you were there, you know what you said. Well, my compliment to you is, the next morning, I started taking the pills.
Carol: I don't quite get how that's a compliment for me.
Melvin: You make me want to be a better man.
Carol: ...That's maybe the best compliment of my life.
Melvin: Well, maybe I overshot a little, because I was aiming at just enough to keep you from walking out.
Melvin [to a bartender]: No offense, but a moron pushing the last legal drug.
Simon: Thank you, Melvin. You... overwhelm me...
I love you.
Melvin: I tell you, buddy... I'd be the luckiest guy alive if that did it for me.
Melvin [to a group of depressed psychiatric patients]:
What if this is as good as it gets?