Let's do this! Give me an A! Give me a B!
Bring on that S!
It's the 2016
Blogging from A to Z challenge
!
Lordy, I think I can see the light at the end of the alphabetical tunnel.
Have you visited some of the other participants' blogs?
What are ya waiting for?
Check out all the great blogs on
the list.
#AtoZChallenge
Arlee Bird (
Tossing It Out
) and your A-to-Zers, you are an evil taskmaster, lol. A list of
great
participants can be found at the
A to Z Blog site.
The basic idea is to blog every day in April except Sundays (26 days), alphabetically, theme optional. Of course,
I had to go with a theme:
Favorite Characters, Favorite Lines.
Seinfeld, oh where for art thou? I love it when you find a show you really look forward to watching, especially in the years since the invention of DVR and later - Netflix! There's a huge gap in my television and movie expertise that starts about mid-80s and ends around 2000. During that time, I never watched any of the wildly popular shows. No LA Law, 90210, Dawson's Creek, Miami Vice, The Wonder Years (I had to google these).
But I always knew when Seinfeld was on. The show "about nothing" was a solid favorite and this is my theme, right? There's as many wise Seinfeld quotes as there are funny ones.
S is for Seinfeld!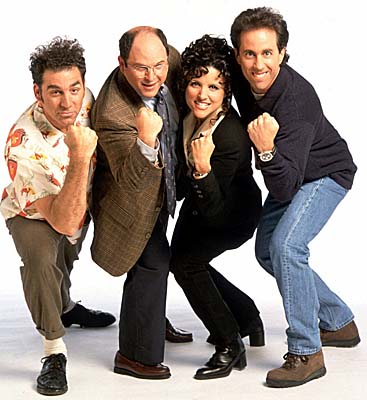 George:
You've got to apologize.
Jerry:
Why?
George:
Because it's the mature and adult thing to do.
Jerry:
How does that affect me?
Boy, a little too much chlorine in that gene pool.
Looking at cleavage is like looking at the sun.
You don't
stare at it. It's too risky.
Ya get a sense
of it and
then you look away
Pain is knowledge rushing in to fill a gap.
George:
You're gonna over-dry your laundry.
Jerry:
You can't over-dry.
George:
Why not?
Jerry:
Same reason you can't over-wet.
It's amazing that the amount of news that happens in the
world every day always just exactly fits the newspaper.
Not that there's anything wrong with that...